I don't know about you, but the DIOR Cruise Show yesterday was UGLY! Galliano is getting old and senial, and we need Dior to come back to it's original elegance, and not this Taffeta, and Polyester they speak of! There are some hideous outfits, these were the top hideous garments of their 2K9 Cruise Line!
What the hell is this outfit? She looks Tranny!
She looks like an extra in a vintage Country video on the Ed Sullivan Show!
It is a Giraffe/Cheetah combo maxi skirt. That is all I have to say.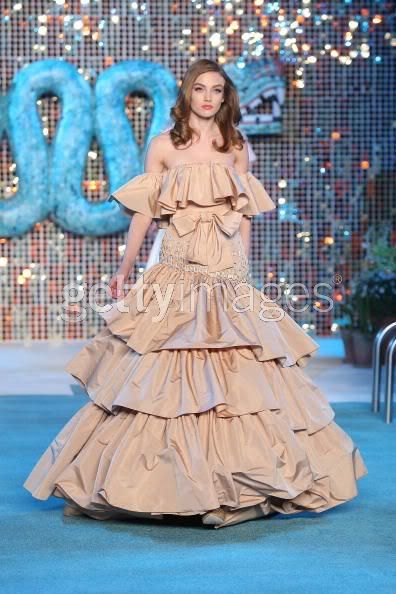 It looks like Prom 1964. What are these ruffles?! And it is a light beige color. Very F-in CLASSY!
THE WINNER! She looks like the rainbow just died on her. And those prints on the capri-leggings combo makes her look like her name should be Tribal Moonstarlight. I bet this would win best dressed @ any high school!
And don't get me started on the hot pink sombrero!
The only DECENT outfit is the one worn by my favorite Chanel Iman (aka Channel).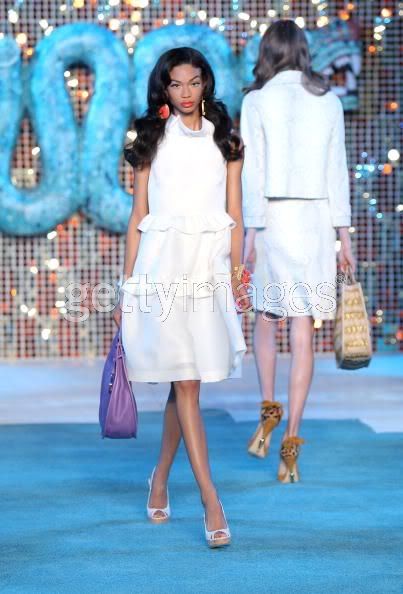 And the only reason is that it is ALL WHITE and there aren't too many damn ruffles!
Dear John Galliano,
You need some more inspiration, or a good lay because this collection is worst than Marc Jacobs for Louis Vuitton. One word: VOMITRONIC!